Online scams and phishing are very common these days. One of the most common malicious and fraud popup is virus alert. This is an easy way for the scammer to make you panic and make mistakes. They recommend some solutions and ask your personal credentials. In that case, don't panic and never share your personal credentials to anybody.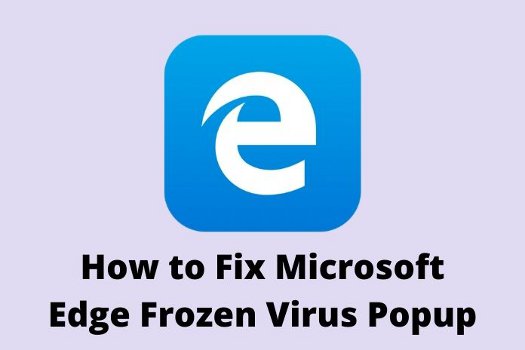 What is Microsoft Edge Frozen Virus?
If you see something like Danger! Warning! Your computer has a serious virus! In your Microsoft Edge web browser, do not panic. This is just a scam, a malicious attempt to scare new Microsoft Edge users.
How to remove it?
1. Whenever you get Microsoft Edge Virus, open your task manager and terminate the Microsoft Edge.
2. Do not run Microsoft Edge from the shortcut, type in the Windows Search bar and search for it.
3. Right-click on the new tab and chose to close all other tabs
4. Close the Microsoft Edge browser. Next time when you start the Microsoft Edge browser, the Microsoft Edge Virus Alert should disappear.
The possible next step to stop Microsoft Edge Security Warning is downloading a good third-party antivirus. There are many good anti-viruses in the market. Choose a good antivirus according to the need of your computer for protecting your device from these scams as well as from other types of malware.
If something hijacked your Microsoft Edge browser and change the preferences, you can get them back by opening Settings>Advanced settings>Start page.
If you want to avoid the false warnings in the future, try ad-blocking extension. Microsoft Edge supports numbers of extensions, make sure to get a good ad-blocking extension as soon as possible for preventing your browser for all kinds of false warnings. The other preventive method can be not allowing the cookies on all sites and accept them only when appeared from a trusted source.
Microsoft Edge Pop Up virus warning
Sometimes you may also get a fake popup warning of Microsoft Edge. This mostly occurs when you click a malicious URL. When you click on the popup malware gets installed on your device. Whenever people see the warning popup message; they panic and click on the popup immediately. You should never click on any popup instantly. When you get the popup check your URL; if the pages you are accessing are not secure then close all the pages. You should always use https secure pages. Always check the padlock on the URL. If you can't see the padlock then you should not access that site.
The best option to deal with fake Microsoft Edge Virus issues is to clear the cache. Follow the given steps to clear your cache:
Open your device and go to the search bar

Type Edge and hit the Enter button

Click on the result and Edge browser will open on your screen

Go to the top right corner and click on the three dots

Go to the dropdown menu and hit the Settings button

Click on Set up the new page and select Choose what to clear option on the Clear browsing data 
Now you will get a list of items you can delete from your browser. Check the boxes of browsing history, download history, cached data and files, cookies, and saved websites data. This will remove all the tracking cookies and caches from your PC. If you are suspecting that your device is dealing with virus infection then you should also clear all the passwords and form data from your browser. It will help to secure your privacy. Once you clear all the items; restart your Edge and access your sites carefully.
How to Fix Microsoft Edge Virus?
If your device is dealing with a virus infection then the best and most simple technique to fix the error is using antivirus. Get a good security software program that can work as Microsoft Edge Virus Warning Removal tool and removes all malware from your device. Provide a full scan system scan and then restart your device. 
Try resetting your Microsoft Edge Settings as if the issue is related to configuration or extension then it will get the fix immediately:
Open your device and click on Microsoft Edge

Go to the settings and more (click on the three dots on the top-right side)

Click on the settings button
Now go to Reset settings and choose to restore settings to their default values button and tap the Reset button. Once you reset your Edge browser; all the changes which occur due to viruses will get reverted. You should always keep your Edge browser virus free because if your browser gets a virus; it may access your various accounts. It can also monitor your online activities and track your data. Virus infection can get you into data corruption or data-theft issues. Another good method for dealing with virus pop-ups in your browser is reinstalling Edge in your device. Uninstall the Edge and then provide a fresh installation that is fully secure.
You can get rid of Microsoft Edge Virus 2020 from the solutions mentioned above. If you are still unable to get rid of this Microsoft Edge Virus Pop-up, you can contact Microsoft Edge Customer Service Number for help.